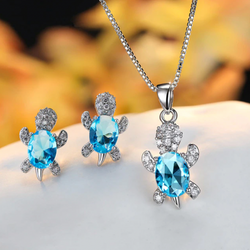 White Gold Turtle Necklace And Earring Set
Experience the allure of the ocean's treasures with our White Gold Turtle Necklace and Earring Set, a luxurious homage to the graceful sea turtle. Adorned with the sparkle of crystal zircon stones, this exquisite set captures the serene beauty of these beloved marine creatures.

Each piece in the set — from the charming turtle pendant to the matching earrings — is crafted with precision in white gold, creating a radiant backdrop for the dazzling zircon stones that emulate the clear waters of the turtle's natural habitat.

The fine craftsmanship ensures that the turtles' silhouettes are lifelike and delicate, making the set an elegant choice for both casual and formal wear. It's an ensemble that's sure to be admired and a conversation starter at any gathering.

This set is not just a gift but a statement of admiration for one of nature's most ancient and revered animals. It's the perfect present for environmentalists, marine life enthusiasts, or anyone who has a special place in their heart for turtles.

Beautifully packaged and ready to be gifted, this White Gold Turtle Necklace and Earring Set is destined to be a cherished addition to any turtle lover's jewelry collection. Offer it as a symbol of love and a testament to the timeless beauty of the natural world.