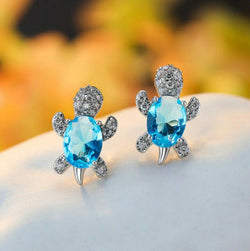 White Gold Luxury Turtle Earrings with Zircon Crystal
Step into a world of understated luxury with our White Gold Turtle Earrings, adorned with the shimmering brilliance of our crystals. These earrings are a testament to sophisticated style, perfect for those with a fondness for sea-inspired charm.

Hailing from the United Kingdom, our small business takes pride in offering these elegant pieces that capture the essence of artisanal craftsmanship. Choose from a delightful palette of colours, including Pink, Aqua Blue, and regal Champagne, to find the hue that best expresses your personal style.

Each pair is presented with the option of beautiful gift wrapping, making them an ideal present for someone special. As you make your purchase, take solace in knowing that you are supporting a local business.

We are pleased to offer complimentary delivery, ensuring your new earrings arrive swiftly and without additional charge.

Relish in the assurance provided by Etsy's Purchase Protection, and enjoy these exquisite earrings with the peace of mind that comes from shopping with confidence.