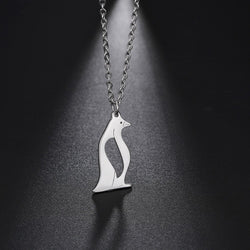 Dainty and perfectly formed, this sweet little penguin piece just can't wait to be worn by you and be the envy of your friends.
From her feet to her beak, we think this lady is simply p-p-p-perfect!
Can be made into a set with any of our penguin earrings.
Penguins are one of the few animals who mate for life, so gifting a piece of our penguin jewellery is a super cute way to tell your special person how much you care for them. Whether you've got your heart set on a penguin ring, penguin bracelet or necklace then Shop Penguin can deliver.
Silver Penguin Necklace
Perfect Gift
WHO WE ARE
::::::::::::::::::::::::
A brand founded out of love for penguins and animals in general!
At Shop Penguin we design and create gorgeous ocean-inspired jewellery and accessories including bracelets, rings and necklaces.
- Orders are sent worldwide from our studio in Liverpool, UK.
::::::::::::::::::::::::::::::::::::::::::::::::::::::::::::::::::::::::::::::::::::::::::::::::::::::::::::::::::::::
Thanks for looking at the store. If you have any questions please don't hesitate to message us