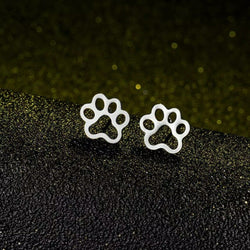 Silver Paw Print Earrings
Silver Paw Print Earrings  Dog Owner Gift | Cat Owner Gifts
Are you or someone you know a lover of dog, cats or any other furry little friend.
Our paw print heart stud earrings are the perfect piece of jewellery for you.
Small, lightweight and cute these earrings are guaranteed to make you smile just check out our reviews!
The perfect gift either for yourself or for someone you love.
- Fashionable
- Lightweight
- Donate to a good cause
- A perfect gift
- Size - 12mm by 11mm
- Pawprint stud earrings in silver
Like all of our products, we will donate a percentage of sales to help support penguins all around the world.
Perfect gift for women and children jewellery
Our jewellery is shipped in a cute little drawstring bag so can be sent straight to the recipient if purchased as a gift.
The paw print earrings are perfect for gifting, as our delivery doesn't include an invoice with the price whilst deliveries will fit easily through the letterbox.
If you have any questions feel free to send us a quick message and we will be happy to help you with your enquiry about the jewellery and necklaces.
Cat owners and dog owners will know this is a very thoughtful gift
#ShopPenguin #DogJewellery #CatJewellery #CatEarrings #DogEarrings