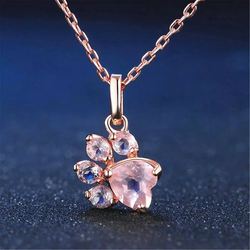 Rose Gold Paw Print Necklace
Our beautiful paw print necklace will make the perfect gift for any animal lover!
Dog lovers will love this paw print design, perfect to remind them of their furry friend even whilst they are away from them.
The paw necklace is petite and shiny.
Perfect for gifting, the paw print necklace and our other paw print jewellery deliver quickly and we don't include the receipt in the bag so it can go directly to the recipient of the gift.
40cm+5cm
If you have any questions about this paw print necklace or any other pieces of our animal inspired jewellery please feel free to get in touch.