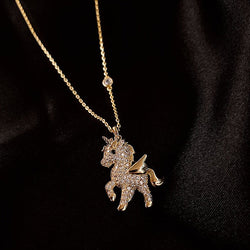 Rhinestones Unicorn Pendant Necklace Gold
If you love unicorns then wow, this necklace is the perfect necklace for you.
It is our best selling necklace and I am sure it will look super cute on you.
Maybe instead you are buying this as a gift for a unicorn lover in which they will be sure to put a smile on your unicorn crazy friend/family member.
The Gold Unicorn Pendant Necklace go perfectly with our Gold Unicorn Stud Earrings which can be found here - https://shoppenguin.co.uk/products/gold-statement-unicorn-stud-earrings
The unicorn jewellery is easy to gift as we send the products in a cute little bag/box without the receipt so that you can send it directly to your unicorn loving recipient.
If you have any questions about our unicorn necklace or any of our other products please feel free to give us a message and we will see how we can help.
Finally, thank you for checking our store and we hope you love what you choose.