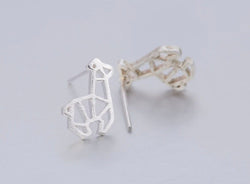 Petite Silver Origami Style Giraffe Earrings
Giraffe lovers, we have some gorgeous earrings just for you with our Giraffe Earrings.
Our jewellery is shipped in a cute little drawstring bag so can be sent straight to the recipient if purchased as a gift.
The Giraffe earrings are perfect for gifting, as our delivery doesn't include the receipt and deliveries can fit easily through the letterbox.
The perfect gift either for yourself or for someone you love.
- Fashionable
- Lightweight
- Donate to a good cause
- A perfect gift
- Thoughtful Gifts for loved ones
The spiritual meaning of a giraffe, the placid power animal, is anything but ordinary. Also called 'Africa's gentle giant', the giraffe symbolizes grace, peace, individuality, protection, communication, perception, and farsightedness.