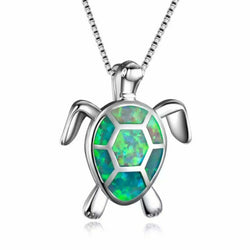 Opal Green Sea Turtle Charm Necklace
The perfect gift either for yourself or for someone you love.
If you love turtles and want turtle jewellery, turtle earrings and turtle necklaces then you are on the right store.
Just like this Opal Green Sea Turtle Charm Necklace, we have a full collection or turtle inspired products.
- Fashionable
- Lightweight
- Donate to a good cause
- A perfect gift
Like all of our products, we will donate a percentage of sales to help support penguins all around the world.
Perfect Christmas gift
#ShopPenguin #Turtles #TurtleLovers
Turtle Facts!
Did you know that the temperature dictates the sex of baby turtles.
Warmer nests lead to more females and cooler ones lead to more males—which is why climate change could drastically affect their populations by creating too many females and too few males to match them for reproduction.