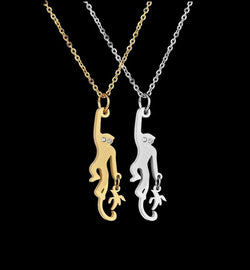 We're not monkeying around with the Monkey necklace in silver and gold,
A cute piece for women and children to pair with their everyday outfits.
Perfect gift for any animal lover or the monkey in your life 🐒
The monkey is a powerful symbol of good luck. It seeks to awaken your youthful and cheerful spirit, and the inner child in you!
Monkey lovers will be sure to smile with the monkey 🐵 design close to their heart.
Women's & children's necklaces and jewellery are our real speciality and hobby so don't forget to also check out the rest of the collections as you might find a few earrings, anklets and bracelets you also love just like this monkey necklace.