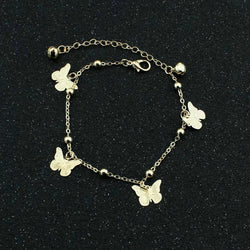 Gold Butterfly Charm Anklet
You've found it! The cutest Butterfly Anklet Ever Made!
Our Gold Butterfly Charm Anklet is the perfect finishing touch to your outfit, whether that is on the beach, around the pool or just in your general outfit.
It is cute and lightweight which is ideal for an anklet.
Butterfly lovers love this anklet as a gift, but it doesn't just work for them as who doesn't think butterflies are cute!
Women's & children's necklaces and jewellery are our real speciality and hobby so don't forget to also check out the rest of the collections as you might find a few earrings, anklets and bracelets you also love just like this Butterfly Anklet.
Thanks for looking at our small business store. If you have any questions please don't hesitate to message us and we would be happy to help.