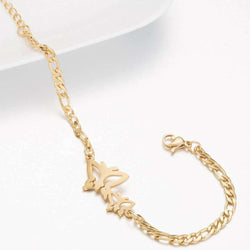 Gold Butterfly Chain Bracelet
The butterfly counts not months but moments and has time enough.
-Rabindranath Tagore
Our Gold Butterfly Chain Bracelet is a cute bracelet made to remind someone of their beauty.
The perfect gift either for yourself or for someone you love.
- Fashionable
- Lightweight
- Donate to a good cause
- A perfect gift
Like all of our products, we will donate a percentage of sales to help support penguins all around the world.
Perfect Christmas gift
#ShopPenguin
Butterflies can't see their wings.
They can't see how truly beautiful they are,
but everyone else can.
People are like that as well.