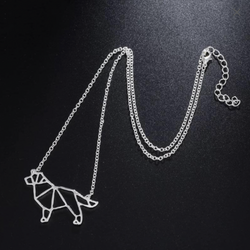 Dog Necklace Silver Origami
A huge favourite for dog lovers and owners, the Silver Origami Dog Necklace has been a best selling necklace pretty much since day 1.
The Dog necklace is fashionable and lightweight whilst also being perfect for gifting,
Women's & children's necklaces and jewellery are our real speciality and hobby so don't forget to also check out the rest of the collections as you might find a few earrings, anklets and bracelets you also love just like this Dog Necklace.
If you have any questions feel free to send us a quick message and we will be happy to help you with your enquiry about the jewellery and necklaces.