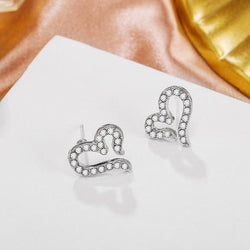 Superbly crafted and with perfect proportions, these diamond heart earrings are gorgeous.

The heart outline creates a piece of jewellery that you will love.

These beautiful heart earrings would make the perfect gift for someone special or even a gift for yourself

If you are looking for a gift for her then these are the cute earrings you were looking for.

Cute earrings for her.

If you have any questions feel free to send us a quick message and we will be happy to help you with your enquiry about the jewellery and necklaces.

Petite Silver Earrings for partner.