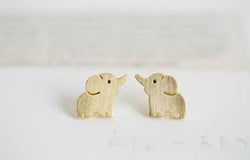 These cute elephant earrings would be the perfect gift for any elephant lover!
The earrings are petite and minimalistic while still showing off these gorgeous animals.
Elephants hold significant meaning in many cultures and symbols of these majestic creatures have been depicted in mythology and religion for thousands of years.
Elephant symbolism also represents sensitivity, wisdom, stability, loyalty, intelligence, peace, reliability and determination, which are all seen in the animal's nature when observed in the wild.
Women's & children's necklaces and jewellery are our real speciality and hobby so don't forget to also check out the rest of the collections as you might find a few earrings, anklets and bracelets you also love just like these cute elephant earrings.
If you have any questions feel free to send us a quick message and we will be happy to help you with your enquiry about the jewellery and necklaces.