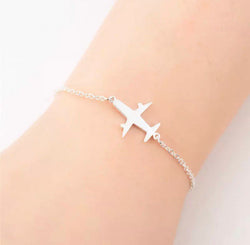 Are you or a friend a travel lover?

Our Aeroplane Bracelet is the perfect bracelet to let them know you were thinking about them.

- Cute
- Fashionable
- Lightweight
- Donate to a good cause
- A perfect gift

Women's & children's necklaces and jewellery are our real speciality and hobby so don't forget to also check out the rest of the collections as you might find a few earrings, anklets and bracelets you also love just like this cute Aeroplane Bracelet.