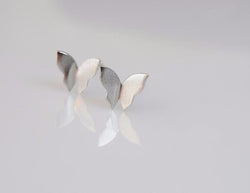 925 Sterling Silver Butterfly Earrings
Beautiful Petite Butterfly Earrings In Silver - 925 Sterling Silver
Butterfly & fashion lovers, we have a gorgeous earring set just for you with our Petite butterfly earrings in silver.
Our jewellery is shipped in a cute little drawstring bag so can be sent straight to the recipient if purchased as a gift.
The petite butterfly earrings are the perfect gift, as our delivery doesn't include the invoice sheet and deliveries can fit easily through the letterbox.
The perfect gift either for yourself or for someone you love.
- Fashionable
- 925 Sterling Silver
- Lightweight
- Donate to a good cause
- A perfect gift
Like all of our products, we will donate a percentage of sales to help support penguins all around the world.
Women's & children's necklaces and jewellery are our real speciality and hobby so don't forget to also check out the rest of the collections as you might find a few earrings, anklets and bracelets you also love just like these butterfly earrings.
If you have any questions feel free to send us a quick message and we will be happy to help you with your enquiry about the jewellery and necklaces.