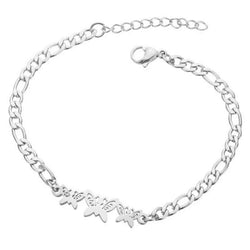 Silver Butterfly Bracelet
Butterflies are gorgeous, just like this bracelet.
"Happiness is like a butterfly: the more you chase it, the more it will elude you, but if you turn your attention to other things, it will come and sit softly on your shoulder."
The perfect gift either for yourself or for someone you love.
- Fashionable
- Lightweight
- Donate to a good cause
- A perfect gift
Like all of our products, we will donate a percentage of sales to help support penguins all around the world.
If you love butterflies or have a family member that loves butterflies then please also take a look at our other products as like this one we have gorgeous butterfly jewellery.
Perfect Christmas gift
#ShopPenguin
Gift for daughter.
Butterfly gifts.