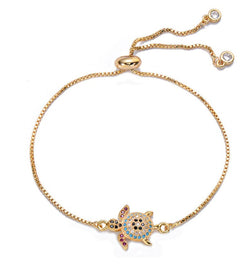 Inspired by the majestic sea turtle we wanted to capture the beauty of the sea turtle in this bracelet.
Perfect Gift For Any Turtle Lover
This Luxury Turtle Bracelet is a marvellous piece of jewellery.
The bracelet is made up of a simple chain and a lavish turtle-shaped pendant.
The turtle limbs and the head come in a variety of different colours to best match your outfit & personality.
Why not buy 2 colours to be able to mix and match with every outfit? Or pair with our of our turtle necklaces or turtle earrings.
Carry your own piece of ocean life with you everyday with this beautiful sea turtle bracelet.