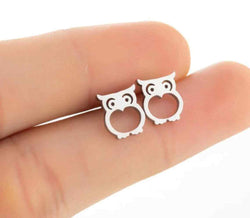 Petite Silver Owl Earrings
Petite Owl Earrings
- Thoughtful Gift
- Lightweight
Owls represent wisdom, knowledge, change, transformation, intuitive development, and trusting the mystery.
Owls can show up when you are being asked to listen to your intuition.
Women's & children's necklaces and jewellery are our real speciality and hobby so don't forget to also check out the rest of the collections as you might find a few earrings, anklets and bracelets you also love just like these own Earrings.
If you have any questions feel free to send us a quick message and we will be happy to help you with your enquiry about the jewellery and earrings.
Our jewellery is shipped in a cute little drawstring bag so can be sent straight to the recipient if purchased as a gift.
The Owl Earrings are the perfect for gifting, as our delivery doesn't include the receipt and deliveries can fit easily through the letterbox.