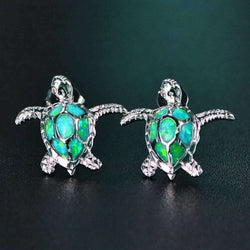 Opal Turtle Green Earrings Jewellery
Show some love for all the sea creatures out there with our Turtelly Cool Opal Turtle Green Earrings.
This adorable design features a super-cute sea turtle in green.
Everyone's obsessed with these cute sea creatures (and our new Sea Turtle earrings, too!).
Women's & children's necklaces and jewellery are our real speciality and hobby so don't forget to also check out the rest of the collections as you might find a few earrings, anklets and bracelets you also love just like these turtle earrings.
The turtle earrings are perfect for gifting, as our delivery doesn't include the receipt and deliveries can fit easily through the letterbox.