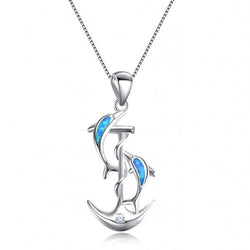 Navigate the majestic beauty of the ocean with our Dolphin and Anchor Silver Necklace, a piece that perfectly captures the serenity and strength of the sea. This necklace brings together the playful spirit of the dolphin and the steadfastness of the anchor, complemented by the captivating shimmer of blue opal and the sparkle of diamond accents.

Crafted in sterling silver, this exquisite necklace is adorned with a dolphin and anchor charm, each embellished with blue opal stones that reflect the hues of the ocean's depths. The subtle inclusion of diamond accents adds a touch of luxury and brilliance, reminiscent of sunlight dancing on the water's surface.

This piece is more than just jewellery; it's a celebration of nautical life and a tribute to the ocean's wonders. It's an ideal gift for seafarers, marine life enthusiasts, or anyone who feels a deep connection to the water.

Each necklace is presented in elegant packaging, making it the perfect present for birthdays, anniversaries, or as a special token of appreciation. Give the gift of oceanic grace and charm with this Dolphin and Anchor Silver Necklace, a treasure as timeless as the sea itself.