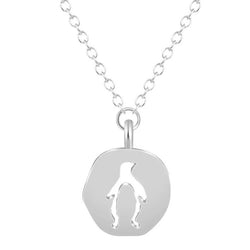 If penguins are your thing, like penguins are our thing, then we may have found a match made in heaven.

Our Cutout Penguin Pendant Necklace is a best seller on our penguin loving store and is the cutest of gifts for you or someone you love!

- Petite
- Minimal
- Lightweight
- Penguin charm
- Cute gift

In just a short time we have already amassed a strong following and group full of lovers of penguins and other animals such as turtles.

Our jewellery is shipped in a cute little drawstring bag so can be sent straight to the recipient if purchased as a gift.

The items are perfect for gifting, as our delivery doesn't include the price whilst deliveries will fit easily through the letterbox.

If you have any questions feel free to send us a quick message and we will be happy to help you with your enquiry.