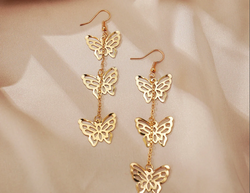 3 Charm Dangle Butterfly Earrings
These dangle butterfly earrings will make a statement with any outfit!
Like most of our products, the 3 Charm Dangle Gold Butterfly Earrings is made for animal lovers of all ages.
However, this butterfly piece is certainly one of the statement-making earrings, with the 3 charms dangling down it is sure to catch the eye.
If you are buying this as a gift then it is a big seller with animal lovers, teenagers and for nights out.
Lightweight and fashionable
Drop Length 9cm